Favorite Links
Favorite Links
Favorite Sites
Fairchild Foundation is an all-volunteer, non-profit Trap-Neuter-Vaccinate-Return (TNVR) organization that spays and neuters stray, feral and community cats in Berks County and surrounding areas in PA.
Clinics are the 3rd Sunday, January to November, at the back of The Vet On Main.
Walk-ins for ONE CAT in a HUMANE TRAP per Colony/Neighborhood – GROUPS MUST MAKE AN APPOINTMENT
Complete our "Clinic Reservation Request Form"
1 in 4 dogs die of Cancer....Many more suffer. TOGETHER we can find a cure!
Canine Cancer Campaign...Best Friends Helping Best Friends.
The American Association of Feline Practitioners (AAFP) and Fort Dodge Animal Health have developed a campaign to educate cat owners about how to watch for subtle signs of sickness and how to know when to contact their veterinarian. Healthy Cats for Life emphasizes the importance of twice-a-year veterinary exams and recognizing behaviors that relate to feline wellness.
HAPPY HEALTHY CAT CAMPAIGN www.research4cats.org Find out THE MYSTERY OF CATS....Is your Cat At Risk for one of the five most common feline diseases?
Dog and Cat Health Care presented by practicing veterinarians. View x-rays of actual cases, see real surgery photos, read about dog and cat health care, view the Pet Photo Album, take quizzes, learn about pet foods, nutrition and more!
Anyone who considers a pet a beloved friend, companion, or family member knows the intense pain that accompanies the loss of that friend.
This website has tips on coping with that grief, and with the difficult decisions one faces upon the loss of a pet.
For more information on Pet Loss: Helping Kids with Pet Loss http://veterinarywisdom.com/HelpKids_PetLoss.pdf
Telephone Counseling for Pet Parents http://veterinarywisdom.com/teleappointment.htm
STOP ANIMAL FIGHTING http://www.hsus.org/acf/cruelty/publiced/hsus_rewards.html
Animal Fighting Hurts Animals, Children, Communities and You
Be Part of the Solution
The Humane Society of the United States (HSUS) offers a reward of up to $5,000 for information leading to the arrest and conviction of anyone involved in dogfighting or cockfighting.
NORTH PENN PUPPY MILL WATCH www.nppmwatch.com
Adopt - Don't Shop - "For a fraction of the price charged at pet shops, consumers can find thousands of wonderful dogs in shelters and rescues who are house trained, up-to-date on shots, spayed or neutered and, best of all, know they are saving a life by adopting a dog in need," said Jenny Stephens, a member of NPPMWatch. "Many people believe they can not find a puppy or a particular purebred if they opt to adopt but that's simply not true and we recommend those seeking specific breeds or ages first check with their local shelter and then, if necessary, take their search further with www.PetFinder.com "It's a sad reality that dogs in shelters must be routinely euthanized to make room for new arrivals who are surrendered by their owners or found wandering the streets. Thousands of perfectly healthy dogs die at shelters every day in this country primarily because people consider dogs to be disposable when, in reality, they're not. Shelter dogs are actually a bargain when compared to the price of a pet shop puppy and make terrific pets" she said.

Don't Shop, Adopt a Rescued Puppy Mill Dog....Take the Pledge to Stop Puppy Mills http://www.stoppuppymills.org/
Ten Things to Ask Before Buying Pet Insurance
http://www.petinsurance.com/Pet-Insurance-Buyers-Guide/10-Things-To-Ask.aspx
Pet Insurance Buyer's Guide
http://www.petinsurance.com/Pet-Insurance-Buyers-Guide/~/media/pdfs/consumer/Buyers_Guide_08.ashx
Academy of Veterinary Homeopathy http://www.theavh.org/
American Academy of Veterinary Acupuncture http://www.aava.org/
American Association of Feline Practitioners www.catvets.com
American Holistic Veterinary Medical Association http://www.ahvma.org/
American Kennel Club www.akc.org
Animal Communication http://www.shalinibosbyshell.com/interspeciescomm.htm
Feline House Soiling http://www.marvistavet.com/html/body_feline_house_soiling.html
Feline Leukemia http://web.vet.cornell.edu/public/fhc/felv.html
Feline Health Education Videos www.felinevideos.vet.cornell.edu
Forgotten Friend Reptile Sanctuary www.forgottenfriend.org
Intercat Aggression http://www.kingstownecatclinic.com/intercat_aggression.htm
Kim Pickett, Animal Healer http://www.kpickett.com/
Mid-Atlantic Turtle & Tortoise Society http://www.matts-turtles.org/
Pets For Life Campaign www.petsforlife.org
Pets On the Go ...Traveling with Your Pets http://www.petsonthego.com/cgi-bin/start.cgi/index2.htm
Pet Memorials http://www.buymemorials.com/categories.asp?cat=36
Providing for Your Pet's Future Without You--FREE KIT-- http://hsus.org/petsinwills
Puppy Training Basics www.mysmartpuppy.com
Tellington T-Touch http://lindatellingtonjones.com/
Thunderstorm Phobia Help http://www.ygrr.org/doginfo/behavior-phobia.html
The following conditions are to be considered extremely serious, and you should seek proper veterinary care immediately, even on an emergency basis if needed:
These are only some conditions that warrant an immediate trip to the vet! When in doubt, err on the side of safety: see an experienced professional! It is never a "wasted trip" when the life of your companion is at stake!
If you notice any of the following, see your vet within the next 24 hours:
For the following, you should see a vet soon, or call a vet for advice: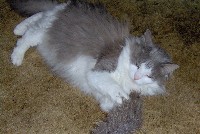 Find More Info Here.......